You can call me Soumo. The actual pronunciation of Soumya is difficult even for me :-) I was born, brought-up and groomed at Calcutta, the cultural center of India. My father Birendra Mitra was a freelance journalist and author. He used to bring me copies of National Geographic from his Office library and I watched awe struck the marvelous creation of the master photographers. In those days, Geographic used to provide technical details about their photographs such as which film, lens and camera was used to capture them. Alas, they do not do it any more.
When I became older, 12 years I guess, my father allowed me to touch his camera Agfa ClickIII !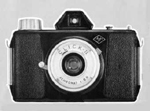 A plastic bodied fixed focus, single meniscus lens 120 film format Camera. I had spent countless happy hours just holding the empty camera and clicking the shutter, imagining I was a Geographic Photojournalist, wading through knee deep mud in Amazon rain forest!
Photography was never a very affordable hobby in India. None of the reputed branded Camera equipment were sold in stores during 80s and 90s for import restriction (I am, however, not aware of the present scenario). All that was available was nth hand old cameras at exorbitantly high price.
When I was admitted to college, my father presented me my first SLR, a second hand Minolta SRT 101 SLR with a 58mm f1.4 lens. He spend a fortune from his meager hard earned savings to buy me my dream. The seller

deceived us by passing a lemon of the lemon body. The cloth focal plane shutter kept on of failing mechanically almost every other month. Apart from that drudgery, boy, what a sharp lens was Rokkor 58mm f1.4! A family friend presented me a bulk roll of 50 ASA ORWO Black and White film which I spooled at my bedroom at night and develop at my make shift darkroom in my bathroom. I got hooked to photography forever.
After passing the college and University, I started my career in IT. My service

provided me the financial power to buy new gears, but the high pressure work environment robbed all the time and fun I was enjoying in my carefree student life. I switched over to Canon AE1 Program with 50mm f1.8 and 28mm f2.8 wide angle. But I kept on missing my first love- Minolta.
Preserving photographs especially transparencies are a big challenge in hot humid climate in Calcutta. Fungus was a constant menace both for

photographs and Lenses. So with the introduction of Digital Cameras excited me very much. I bought a Casio QV2000UX Digital Camera, a 2.1 Mega Pixel consumer grade with full manual control. It produced quality good enough to convince me the potential of Digital format.

After a year I bought Canon D30. This is the first time I felt almost same excitement as I have felt when my father presented me my first Minolta. It has opened a new horizon to me. I am enjoying every bit of it right now. It is my endeavor to share my joy of photography with you though this site. Enjoy your stay and please let me know how you liked it!